DataVisual Marketing
Canada
Total Audio Solution Provider
Yamaha has prospered in a variety of businesses devoted to audio and music over 130-year history of making pianos, band and orchestral instruments, guitars, and electronic keyboards, as well as audio products for professional, home-use, and conferencing. We provide the best audio experience with a wide range of products and services, covering industries such as education, enterprise, house of worship, live entertainment, and more.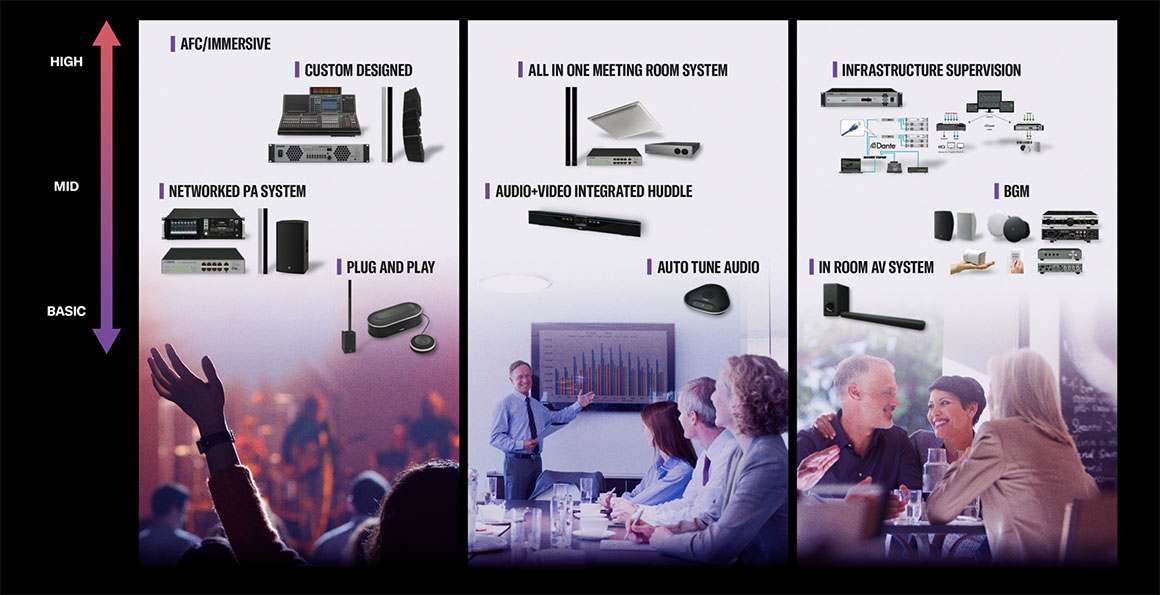 ---

Check Out Our Latest Solutions for Professional Conferencing
---

Yamaha's Worldwide Business Network
Yamaha has more than 60 group companies in the world which allow us to work more closely to the customers.
For you to find the products and distributors in your country, please select your country or region from the list here. Feel free to contact us by clicking "START CONVERSATION" above.
Barco is a global technology leader that develops networked visualization solutions for the entertainment, enterprise and healthcare markets. Our solutions make a visible impact, allowing people to enjoy compelling entertainment experiences; to foster knowledge sharing and smart decision-making in organizations and to help hospitals provide their patients with the best possible healthcare.
Headquartered in Kortrijk (Belgium), Barco realized sales of 804 million euro in 2021 and has a global team of 3,000+ employees, whose passion for technology is captured in +500 granted patents. Barco has been listed on the Brussels Stock Exchange since 1985. (Euronext: BAR; Reuters: BARBt.BR; Bloomberg: BAR BB)
Specialties
Displays, Projectors, LED displays, Monitors, Video walls, Custom imaging, Display monitors, Projectors, Multi projector displays, Video walls, LED solutions, Image processing, Collaborative learning, ClickShare wireless presentation, AV control, 3D sound, Laser projection, Virtual reality, and Medical displays

We are the community for the creative professionals who use technology to create integrated experiences.
AVIXA is the Audiovisual and Integrated Experience Association, producer of InfoComm trade shows around the world, co-owner of Integrated Systems Europe, and the international trade association representing the audiovisual industry.
Take a peek at what we do:


What Is the AV Industry?
AV is the intersection of content, technology, and space. The AV industry is the community of manufacturers and myriad professionals that provide the tools and expertise necessary to convey ideas and enhance communication in virtually every human arena. Audiovisual systems and technologies are the building blocks that create memorable experiences and connect us to our world in every way imaginable. It's the tremendous sound you hear at a concert, the amazing digital displays you see at a museum, the video conferencing system you use at your office, the projected images you see at your corporate gatherings, the cool stuff in the huddle space that connects your devices to the big display, the technical wizardry that's used in theme parks to amaze and delight you. That is all part of the AV industry. Are you getting the picture?
We're Part Association, Part Society
We're part association, part society; a mix of professionals from all over the globe who create those cool experiences you have in meetings, classes, and events in offices, airports, museums, sports arenas, theatres, concerts…
We're the Hub for All People and Things AV
AVIXA has more than 11,400 members – both companies and professionals. Find out why you belong in this community. Explore membership. [Membership | AVIXA]
The Industry Leader for Professional Collaboration, Information, and Community
We're the industry leader when it comes to professional collaboration, information, and community, leading the world with all the necessary resources: AV standards, certification, training, market intelligence, and thought leadership.

Learn More
Dive into topics that interest you on our website:
Conferencing and Collaboration
Content Production and Streaming
Digital Signage
Higher Education

Sign up to get the latest AV news and inspiration.