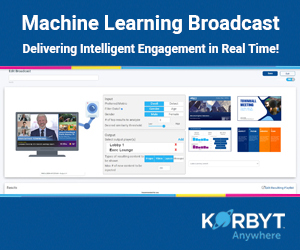 Across the world, life is gradually returning to normalcy after over 2 years of devastating disruption by the COVID 19 pandemic. The public health emergency took its toll on the economy and the healthcare sector the most, but it also created a paradigm shift in the corporate world. Remote work became the new normal and the coming together of employees happened almost completely online. However, as normalcy is gradually returning to the workplace, the future of work looks more like an integrated experience where employees leverage both virtual and physical workspaces at their convenience. For businesses, this hybrid model of work requires a more holistic re-engineering of their physical office infrastructure.
One of the areas that will witness transformative changes in the coming years is the evolution of smart and intelligent conference rooms within offices. To accommodate the dynamic needs of employees to connect with their peers either on-site or from their homes, meeting rooms require a more flexible and agile architecture that supports an integrated experience for all. The hybrid workspace approach that an enterprise is likely to follow will become a core pillar of new-age conference room design and infrastructure.
Let us explore the top areas that will see renewed focus and innovation as far as conference room experience is concerned in the new normal:
Safety
We have seen how the pandemic created a new breed of work etiquette that minimized close interactions. While meeting rooms will need to accommodate multiple personnel within them going forward, they will have to manage occupancy rates in tandem with healthy space utilization. This may mean tighter access controls to prevent unauthorized entry and overcrowding. It will also need better audio and visual infrastructure that allows more participants to have a feel of being in the conference room when they are physically working from elsewhere. Such infrastructure helps to keep a minimal number of people within conference rooms and fosters more virtual participation. This is especially useful when scenarios like a COVID wave are active, and government and healthcare regulations demand a restricted occupancy level within air-conditioned environments like conference rooms.  
Unified communication
Today, corporate meetings happen in a blended physical and virtual environment supported by leading team conferencing applications like MS Teams, Zoom, etc. The meeting room of tomorrow needs to have flexible integration with a range of unified communication tools and business information systems for seamless collaboration and information exchange between participants from different locations and the meeting room. By integrating with a host of cloud-based collaboration environments, these intelligent conference rooms will remove barriers between team members working within offices and those that work at other locations or from their homes remotely. For empowering employees to collaborate in a post-COVID world, a unified communication experience is critical.
Functionality boosting infrastructure
Minimizing clutter is always an enterprise priority within a focused work or collaboration environment like a conference room. It helps to boost productivity and prevent unwanted distractions or disruptions when important events or meetings are being hosted. When an employee walks into a conference room to host a meeting, he or she needs quick access to the infrastructure and assets that help get their job done without external help. This demands seamless wireless connectivity with projectors that aid in smart presentation and intelligent audio equipment integrated into tables or on overhead ceiling panels that clearly capture the presenter's voice. This would also need interactive screens with high-definition picture quality and viewing angles that engage participants thoroughly. These are some of the major physical infrastructure components that empower presenters to have better functional control over their meetings within conference rooms.
Smarter digital controls
We have seen how integrated physical infrastructure brings better functionality for hosts and participants. Equally important is the seamless digital transit and asset management capabilities of conference rooms. There may be situations when a meeting host may have to quickly switch between content on their computer with content on their smartphones. For the audience, the experience shouldn't face disruptions during the switch. Intelligent room controls with highly user-friendly interfaces can help mitigate such management challenges and help employees set up room environments, book meeting slots, etc. without the need for external help.  
The workplace of tomorrow will encourage more digitally immersive experiences that help establish better synchronization between employees working across locations. They need to offer a more connected ecosystem with premium audio and video experiences that make presentations ever more engaging and focused. Besides, these meeting rooms will also play host to important events like customer meetings wherein a smooth end-to-end meeting experience is nothing short of a basic necessity.
In addition to the functional elements, it will also be crucial to provide employees using this complex and expensive equipment with the support and information they need at all times. This will mean providing them with easy-to-access product information and how-to guides on well-designed self-service platforms. It will also mean providing them easy access to IT support or a helpdesk when more complex problems arise.
It is important to have a resilient and flexible environment that leaves a lasting impression on all attendees while at the same time guaranteeing a disruption-free conferencing experience. Get in touch with us to explore a range of future-ready conference and meeting room solutions that promote a highly agile and inclusive work experience desired by all.